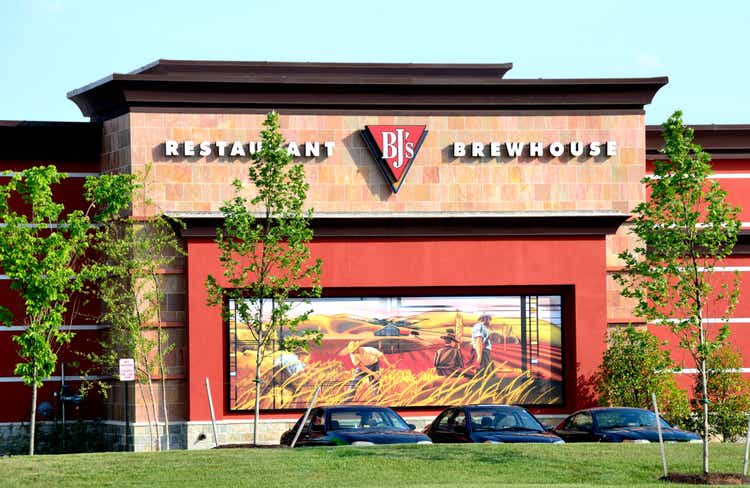 Just over three months ago, I wrote on BJ's Restaurants (NASDAQ:BJRI), noting that I saw zero margin of safety in the stock at $25.80, and I expected any rallies above $27.00 to provide profit-taking opportunities. This view of being in a rush to take profits on any rally was clearly wrong, with the stock rallying 15% above the suggested profit-taking zone, with a weekly close above $31.00 per share last week. However, while the stock has certainly outperformed my expectations, I see little change to the thesis that BJ's could underperform and my view that it's an inferior buy-the-dip candidate. Let's take a closer look at the stock below: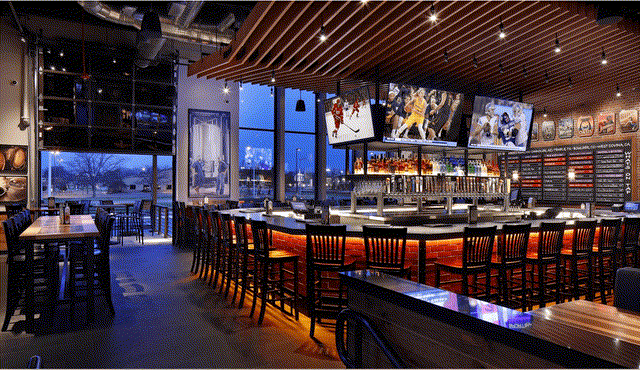 Q3 Results
BJ's Restaurants released its Q3 results in November, reporting quarterly revenue of $311.3 million, a 10% increase from the year-ago period. The increase in revenue was driven by 8.9% comp sales growth and continued unit growth as the company opened new restaurants, but the 8.2% comp sales growth vs. 2019 levels (despite significant menu price increases) left much to be desired. The result of the mediocre comp sales performance combined with industry-wide inflationary pressures was that BJ's reported another net loss in the period ($1.6 million) and adjusted EBITDA of just $15.2 million. This is relatively insignificant for a company with a ~$760 million enterprise value, and especially one whose margins remain in long-term decline.

On a positive note, though, the company's dine-in sales have beaten the casual dining industry as measured by Black Box on a three-year basis year-to-date, and the company's dine-in sales saw an increased lead over its peers on a post-pandemic basis. Meanwhile, the company continues to see steady growth in its system, ending the quarter with 214 restaurants and adding another two restaurants (Nevada and Arizona) in Q4. This translated to ~3% unit growth, which is not bad considering the industry-wide developmental delays and difficulties with equipment availability. Finally, the company noted that it's not seeing check management or changes in buying patterns with similar incidences of appetizers and alcohol plus some indulging.
Unfortunately, while sales have outperformed the benchmark, the casual dining space has suffered from a traffic standpoint with multiple months of negative same-store traffic growth, and staffing hasn't helped. The good news is that BJ's appears to be back to over 90% of restaurants staffed appropriately, but management noted that it lacks depth, meaning that it's harder to replace shifts on the fly if a team member isn't able to show up. Plus, while the sales performance has been decent and staffing levels have improved, BJ's margins have suffered immensely, which explains its annual EPS falling off a cliff the past two years. Restaurant-level operating margins are sitting at just 10.7% year-to-date, down from 12.6% in the year-ago period and north of 16% pre-COVID.
https://www.highcpmrevenuenetwork.com/yjx9n4xz?key=2ae113e708965368d7206a42df6559d1
In summary, while the Q3 performance wasn't bad and the commentary was positive, BJ's doesn't appear out of the woods just yet, and with contracts due to renew this January, we could see another year of commodity inflation even if we are seeing some moderation. Let's dig into industry trends below:
Industry Trends & Earnings Trend
While BJ's had a decent Q3 from a sales standpoint, the industry backdrop remains challenging, to say the least. For starters, personal savings rates are at multi-year lows, and discretionary budgets remain under pressure due to higher living costs. Some examples are rising rent, mortgage, grocery, and utility costs, plus general inflation, which have placed financial stress on the average consumer. Unfortunately, this has been exacerbated by a sharp reversal from the wealth effect being in full force and stimulus to the reverse wealth effect with a violent bear market in equities and cryptocurrencies and housing prices teetering. The result is that the average consumer has less to spend on dining out and is less interested in spending because they feel less affluent.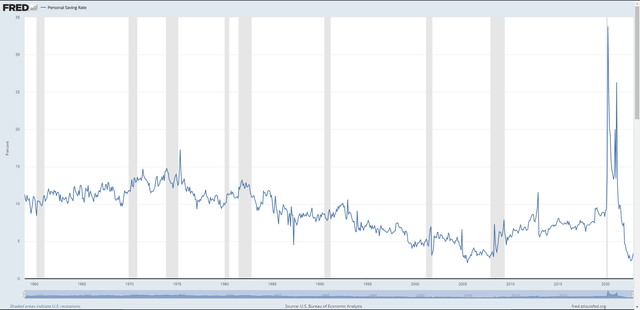 Management noted in a recent call that the positive side of the equation is that consumers are looking for experiences after a year of lockdowns. This certainly favors BJ's, which has award-winning craft beer, a deep menu of premium options including a Southern California twist on Chicago-style Pizza, in-house slow-roasted and fried wings, and Prime Rib, among other items. Just as importantly, BJ's has been careful to strike a balance on pricing to maintain its value proposition and isn't chasing margins at any cost like Chipotle (CMG). Still, while I agree that 2021 and 2022 might have seen a pick-up in dining out after a year of saving and lockdowns, I don't see this tailwind being in effect as much in 2023, especially with a pick-up in layoffs and a much weaker consumer.

While the negative traffic growth in casual dining is a headwind from a sales standpoint for BJ's and other restaurant brands, the industry has also continued to see commodity and wage inflation that has hurt margins. This was evidenced by BJ's cost of goods sold increasing to 27.3% in Q3 and nearly 200 basis points vs. pre-COVID-19 levels (Q3 2019: 25.7%). Meanwhile, labor costs were down slightly but higher than in 2019 despite above-average menu price increases. The result is that BJ's has seen a major step down in restaurant-level margins, which came in at just 10.3% in Q3 2022, well off their pre-COVID-19 peaks.

It is worth noting that BJ's has been conservative with pricing relative to the industry (~6% pricing in Q3), and we appear to be seeing some moderation in inflation at the same time as BJ's is working to claw back margins through cost-savings and top-line growth. Some examples include the following:
source raw wings in-house and slow roast them
add extra booths to some restaurants to boost average unit volumes
selective remodels and bar refreshes in an attempt to drive sales
work towards growing its higher-ticket catering business
In the first example, BJ's could see an annual saving of ~$3 million; in the latter example (catering), the company has seen its catering double vs. 2019 levels. These are undoubtedly positive developments, and the company is also seeing hourly labor savings as it rolls out more efficient labor scheduling. Given these initiatives, BJ's remains confident that it can return to mid to high teens margins. I am less optimistic that this is possible medium term given the upward pressure on wages and the potential for higher for longer inflation. That said, these are minor wins, and the combination of labor savings, cost savings, potential top-line growth from added seating, and less inflation in its commodity basket this year has set BJ's up for a better 2023.
Looking at BJ's earnings trend below, we can see that the company's annual earnings per share [EPS] remains in a long-term decline but is rebounding after two consecutive years of net losses per share in FY2020 and FY2021. This sharp decline in annual EPS can be attributed to the sharp decline in margins due to weaker margins, with the company's revenue declining on a three-year basis in FY2021 ($1.08 billion vs. $1.17 billion in FY2017) and a sharp decline in margins due to inflationary pressures exacerbated by staffing headwinds that have impacted operating hours. Fortunately, FY2023 is expected to be a much better year on the back of continued unit growth and improved staffing, partially offset by persistent commodity and wage inflation.

However, while we will see a significant increase in annual EPS if the company meets estimates ($0.82), it's worth noting that annual EPS is still expected to be more than 50% below pre-COVID-19 levels (FY2019: $2.02) despite a larger system. Plus, clawing back these lost margins medium-term won't be easy with inflation potentially staying higher for longer, the reverse wealth effect in place, and the "new normal" appearing to be much higher wages vs. what restaurant operators became used to in the past decade.
The chart below shows that we've seen an acceleration in the rate of change in wages for the industry. And while we could revert to a similar pace of wage increases to historical levels, any mean reversion would start from a much higher base.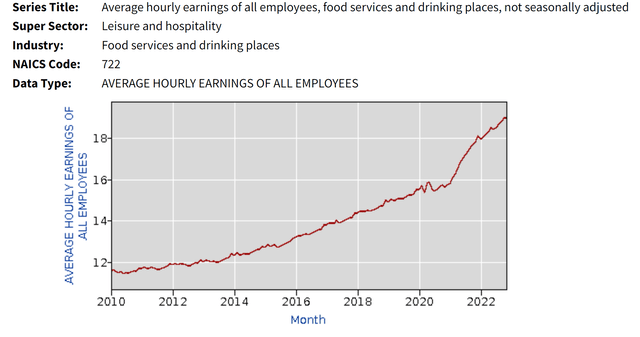 To summarize, the days of ~17% restaurant-level operating margins look like a distant memory. So, while this is still a profitable concept with opportunities to boost average unit volumes (adding extra booths to some restaurants with unused beverage stations, similar remodel opportunities, bar refreshes, and productivity gains), the outlook is less optimistic, especially with short-term and potentially medium-term headwinds from the reverse wealth effect and consumers being more cash-strapped due to the current recessionary environment. I believe this should translate to a lower multiple for the stock, and I don't see that baked into the stock here at $31.00 per share.
Valuation & Technical Picture
Based on ~23.4 million shares and a share price of $31.20, BJ's trades at a market cap of $730 million. This leaves the stock trading at ~13.0x forward EBITDA, which is not a cheap valuation compared to Darden (DRI) at a similar multiple, Bloomin Brands (BLMN) at ~8.0x EBITDA, and Ruth's Hospitality (RUTH) at 10.0x EBITDA. Meanwhile, on an absolute vs. relative basis, BJ's valuation isn't all that attractive either, with the stock trading at ~28.0x FY2024 earnings estimates ($1.11) vs. its historical earnings multiple of ~23.7. Using what I believe to be a more conservative forward earnings multiple of 19.0, which is a 20% discount to the 10-year average, I see a fair value for the stock of $22.20, suggesting that the stock is overvalued at current levels.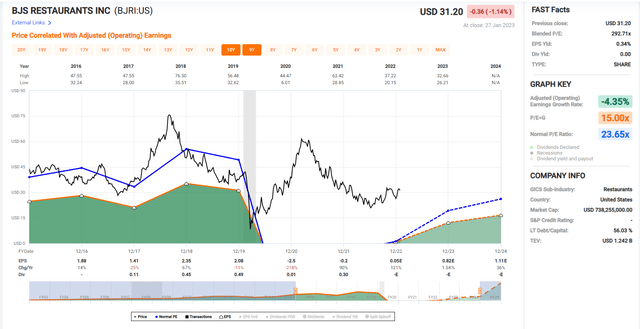 Valuations are not a perfect timing tool, and if BJ's can stage a significant turnaround and annual EPS can head to new highs in the next few years, the stock is cheap at current levels. Given that the company is buying back shares and has considerable room on its buyback program, it does have some ammo to help fuel annual EPS growth. However, I am less optimistic about a turnaround of this magnitude. Plus, I prefer to stick to names that are clear industry leaders only when they're offering a significant margin of safety. So, while there's certainly the possibility that BJ's stock could head higher from here short-term with momentum at its back, I don't see any way to justify investing at current levels.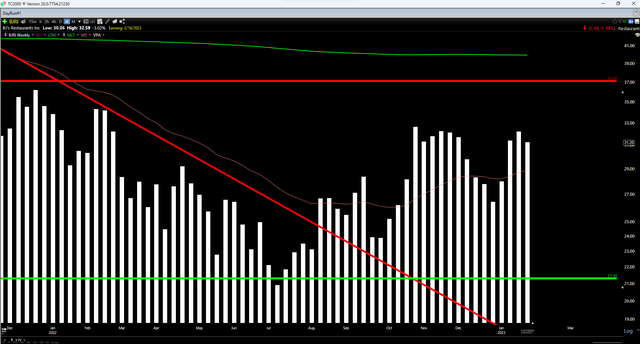 Finally, moving to the technical picture, we can see that this rally in BJRI has left the stock trading in the upper portion of its expected support/resistance range, with strong support at $21.30 and strong resistance at $37.10. Using a current share price of $31.30 translates to $5.90 in potential upside to resistance and $9.90 in potential downside to support, translating to a reward/risk ratio of 0.60 to 1.0. Generally, I prefer a minimum of a 6 to 1 reward/risk ratio to justify starting new positions in small-cap stocks. Hence, BJRI would need to decline below $24.00 to become interesting from a swing-trading standpoint.
In summary, with its valuation leaving much to be desired and an unfavorable reward/risk ratio, I see the stock as an Avoid at $31.20.
Summary
BJ's Restaurants had a better quarter in Q3, and we should see a significant improvement in earnings and margins next year as the company aims to boost AUVs with remodels and continues looking for cost-savings opportunities. However, when it comes to turnaround stories, I prefer only to buy when a significant margin of safety is in place. In BJ's case, I would argue that it trades at a premium to some of its peers, making it hard to justify paying up for the stock here. In summary, I continue to see the stock as an Avoid in favor of more attractively priced names, and I would consider shorting the stock as part of a long/short strategy if it were to rally above $36.00 before June.