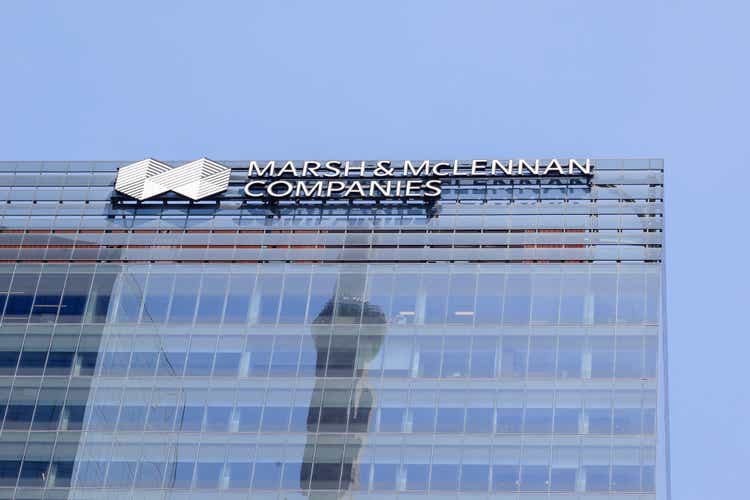 Marsh & McLennan (NYSE:MMC) Q2 earnings topped consensus estimates as the insurance broker "generated double-digit underlying growth, margin expansion and solid growth in adjusted EPS with momentum across all of our businesses," said CEO and President Dan Glaser.
Shares of MMC are edging up 0.8% in premarket trading.
Q2 adjusted EPS of $1.89 surpassed the average analyst estimate of $1.86 and climbed from $1.75 in the year-ago quarter.
Revenue of $5.38B also beat the Wall Street consensus of $5.33B and increased from $5.02B in Q2 a year ago.
Q2 adjusted operating margin of 26.7% at the end of June inched up from 26.4% at the end of June 30, 2021.
For its Risk and Insurance Services segment, revenue came in at $3.3B as of June 30, compared with $3.1B as of June 30, 2021.
https://www.highcpmrevenuenetwork.com/yjx9n4xz?key=2ae113e708965368d7206a42df6559d1
Consulting revenue of $2.1B in Q2 also rose from $1.9B in Q2 of last year.
Operating expenses were $4.02B at June 30 compared with $3.79B at June 30, 2021. Overall, Q2 operating income of $1.4B vs. $1.23B in Q2 2021.
Earlier this month, (July 13) Marsh & McLennan lifted its quarterly dividend to $0.59 per share.