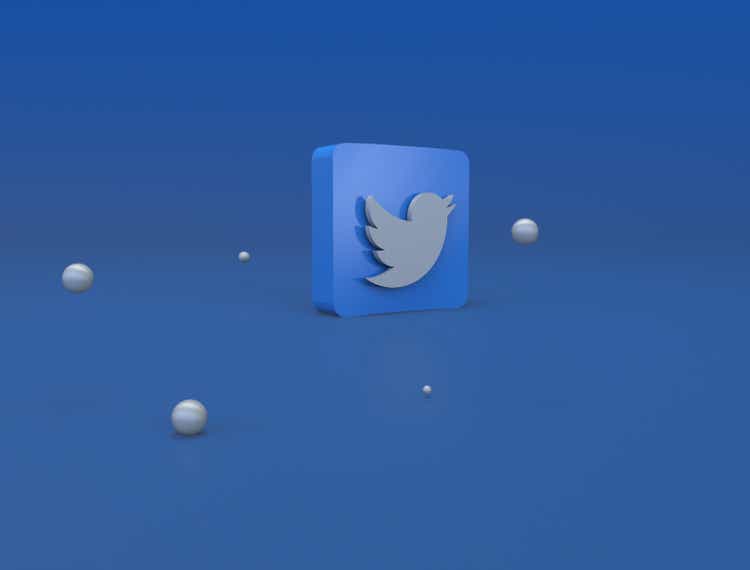 What happened?
Following my previous articles (here, here, and here) calling for a risk-averse stance on the drama between Twitter and Elon Musk, Twitter's (NYSE:TWTR) stock has suffered another round of selloff after Musk filed a 13D to terminate the $44 billion deal on Friday 7/8. Now that the acquisition is canceled, shares are 35% below the original purchase price of $54.2. While Twitter management remains committed to the deal and intends to take legal actions against Musk, the most likely outcome here is that Twitter would receive a $1 billion breakup fee from Musk.
Why did Musk back out of the deal?
According to Musk, Twitter has not provided satisfactory data on the number of fake accounts on the platform. Though Twitter has repeatedly said that these accounts make up less than 5% of mDAU, Musk saw Twitter's data as "incomplete" and not good enough for him to make an independent assessment of the quality of Twitter's user base.
Twitter has failed or refused to provide this information. Sometimes Twitter has ignored Mr. Musk's requests, sometimes it has rejected them for reasons that appear to be unjustified, and sometimes it has claimed to comply while giving Mr. Musk incomplete or unusable information. – 13D
According to a joint study by two research groups SparkToro and Followerwonk, more than 23% of Musk's ~100 million followers on Twitter are potentially fake or spam accounts. At 1Q22, Twitter reported mDAU of 229 million. Assuming half of the 23% fake accounts that follow Musk were counted as daily users, that's already 5% of Twitter's user base. Understandably, Musk had reasons to be worried about Twitter's numbers.
On the other hand, it could be the case that Musk used Twitter's fake accounts as an excuse to walk away from the deal as asset prices have been hammered in this environment. Back in June, Musk revealed that he had a "super bad" feeling about the economy and that Tesla (TSLA) could cut 10% of total employees as he thought a recession may happen sooner rather than later. Considering how much markets have gone down, Musk may have concluded he was overpaying for Twitter and decided to change his mind.
What now for Twitter?
Now the deal is off the table, focus will shift back to Twitter's fundamentals, which frankly don't look so good. Prior to the Musk saga, Twitter's plan was to reach more than 7.5 billion in revenue and 315 million mDAU by 2023. To achieve these numbers, however, sales will need to grow at a 22% 2-year CAGR from 2021 to 2023, while daily users will need to grow 20% annually during the same period. Considering sales and mDAU already grew 21% and 19% annually from 2019 to 2021 when social media in general benefited from the pandemic, Twitter's 2023 targets appear highly questionable.
Besides initiating a hiring freeze, Twitter has also lost a number of executives including Kayvon Beykpour (GM of consumer) and Bruce Falk (Revenue Product Lead), who were promoted to their respective positions back in December 2021. The loss of key talents, noise from a failed transaction, falling share prices, and a worsening macro environment all point to poor employee morale at Twitter.
Historically, Twitter has not been a very profitable company. Expenses would easily come in higher than sales, and Twitter reported operating losses in 7 out of the last 10 years, meaning the social media platform is accustomed to spending >$1 to generate $1 of revenue. Despite finally reaching operating profitability with an EBIT margin of 14.8% in 2018, Twitter was not able to stay consistent and saw EBIT margin contracted to 10.5% in 2019. While EBIT margin understandably took a hit in 2020 when the pandemic arrived, Twitter was again back in the red with a negative 8% EBIT margin in 2021, despite revenue jumped 37% to reach a record $5 billion. Given the company was not able to turn a profit even in its best year in business, it'd be naive to expect any bottom-line earnings going forward.
https://www.highcpmrevenuenetwork.com/yjx9n4xz?key=2ae113e708965368d7206a42df6559d1
What about the stock? Twitter is now trading at 15x forward EV/EBITDA without any near-term catalyst. If the broader market does experience further stress, the multiple could potentially be de-rated to the March 2020 low of 9.9x, implying $22 a share or a 35% downside. While there seems to be a strong technical support at the current price of $33.8, relying on the technicals isn't usually a good reason to own the stock. As always, I believe it's best to remain on the sidelines.
Conclusion
The market is unlikely to be supportive of Twitter's stock now that Musk has canceled the deal at $54.2 a share. In the end, those who originally bought the Musk hype got caught up in the drama and didn't have a safety net when focus shifts back to Twitter's fundamental in a no-deal scenario. Twitter's lawsuit against Musk will easily take several years to settle, so it'd be unrealistic to expect a quick turnaround story. Regardless of what happens, the key takeaway here is that buying stocks based on what Elon Musk feels like tweeting every morning is a losing strategy.