This post is part of a series sponsored by SWBC.
In the last two years, many homeowners have seen the value of their homes skyrocket. Between 2019 and 2020, the median price of a home only rose by $20,400, but between 2020 and 2021, it rose by $40,200. From 2021-2022, they rose over $46,700, bringing the median home price to $357,300.
The average price tag for newly listed homes, which had plateaued around $389,400 in 2019, shot up to more than $443,200 in August of 2021. Average new home prices have risen by 13.5% since March 2021 and 26.5% compared to March 2020.
How do rising home values impact your insureds? For one thing, if the value of their home has risen significantly in the last couple of years, their standard flood insurance policy may no longer offer adequate protection for their needs.
Floods are the most common type of natural disaster that strikes homeowners in the country. According to FEMA, just one inch of floodwater in a home can cause over $25,000 in property damage! Despite this, homeowners insurance does not cover damages caused by flooding.
With another above-average hurricane season predicted in 2022, many of your insureds could be dealing with the fallout of rebuilding after a bad storm. If the price to rebuild their home exceeds the standard policy limit of $250,000—then they may want to consider obtaining excess flood insurance.
Understanding Your Insureds' Flood Risk
Given the increasing occurrence of extreme weather events in America, virtually everyone is at risk of flooding. As their trusted insurance agent, it's crucial to know how much risk your clients' homes could potentially face so you can continue to help keep them safe and point them in the right direction for coverage.
https://www.highcpmrevenuenetwork.com/yjx9n4xz?key=2ae113e708965368d7206a42df6559d1
Homeowners can learn if their property is at low, medium, or high risk of flooding on the Federal Emergency Management Agency (FEMA) site. The map is split up into zones that are used to help establish policy rates.
While most lenders don't require homes outside of FEMA's designated Special Flood Hazard Areas (A and V zones), approximately 25% of all flood damages occur in low-risk areas that lie outside the mapped flood zone.
In fact, when Hurricane Harvey made landfall in Houston in 2017, it ravaged over 200,000 homes leaving more than $125 billion in total damages. Of these homes, 80% were located outside of the 100-year flood plain. This means that the great majority of these property owners did not have any flood insurance coverage.
Other Flooding Risks
As evidenced by the example above, living outside of a high-risk flood zone does not necessarily mean they are safe from flood damage. Flooding can result from bad drainage systems, storms, melting snow, construction, and damaged water lines.
Regardless of how flood damage occurs, flooding is one of the costliest disasters to recover from. While many homeowners have standard coverage through the government-funded National Flood Insurance Program (NFIP) from FEMA, even these policyholders may be surprised to learn that a standard policy often offers insufficient funds to repair, rebuild, or replace contents of a home.
Most standard flood insurance policies only provide residential property coverage up to $250,000 with a maximum content coverage of $100,000. Obtaining private flood insurance can offer your insureds a higher level of coverage for homes and belongings.
The Cost of Rebuilding a Home After a Natural Disaster Is Rising
If your insured's home is damaged or destroyed in a flood, the insurer will reimburse them for the cost of rebuilding the house back to its original specifications before the damage occurred.
The price tag of water damage—not including the cost to replace any contents of the home—is determined by the square footage of the structure, the amount of water, and the cost of labor to repair.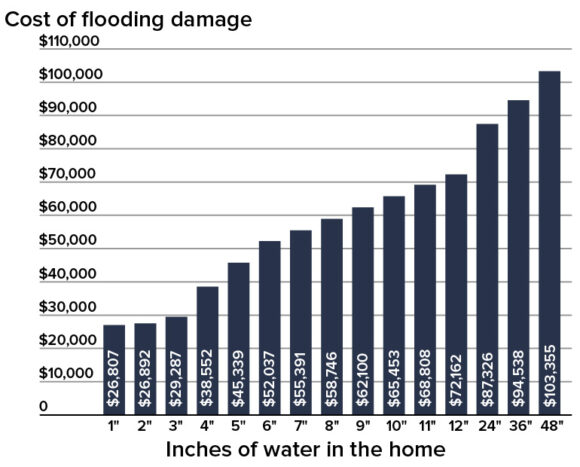 *Chart above based on the amount of water in a 2,500-square-foot home.
Unfortunately, given the rising cost of just about everything needed to build a home, these days, from lumber and materials to labor, total home reconstruction costs have risen significantly (13.6%) in the last two years. The cost of building materials alone is up 28.7% since 2020.
Given these recent trends, it's a good idea to advise your clients to determine how much flood coverage they need based on total current costs to rebuild the physical structure of the home, surrounding structures, and personal contents of the home.
Coverage for Your Clients
As an insurance agent, your clients look to you to help protect them and their homes in a worst-case scenario. As property values continue to increase, excess coverage that goes above and beyond the standard NFIP policy limit will become more relevant to your insureds than ever. Work with SWBC to help your clients gain the flood protection they need. Visit our website to learn more.
Topics
Flood
Interested in Flood?
Get automatic alerts for this topic.